Title
Description
W.D. Moore, Professor of Ancient and English Literature
Preview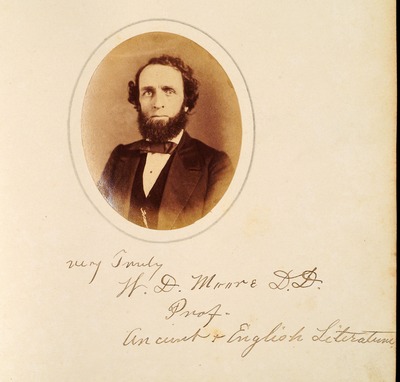 Relational Format
photograph
LCSH
University of Mississippi -- History; University of Mississippi -- Faculty; College teachers; Confederate States of America. Army. Mississippi Infantry Regiment, 11th. Company A; Moore, W. D. (William D.), Rev.
Disciplines
Photography | United States History
Original Format
school yearbooks; salted paper prints
Rights
Images in this collection are for personal use only. These items may not be reproduced, re-posted or saved except under fair use, as stipulated by U.S. Copyright Law : reproduction is not to be "used for any purpose other than private study, scholarship, or research." For publication and professional uses, please contact the Archives and Special Collections at the University of Mississippi Libraries.
Recommended Citation
University of Mississippi, "W. D. Moore" (1861). Classbook of 1861-1862. 7.
https://egrove.olemiss.edu/classbook_1861/7