Title
Preview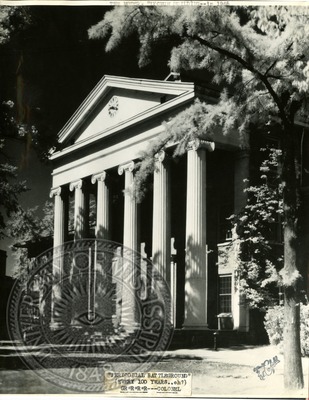 Identifier
mum00078_b01_f20_003
Disclaimer
Some of the images and language that appear in the digital collections depict prejudices that are not condoned by the University of Mississippi. This content is being presented as historical documentation to aid in the understanding of both American history and the history of the University of Mississippi. The University Creed speaks to our current deeply held values, and the availability of this content should not be taken as an endorsement of previous attitudes or behavior.
Description
The Lyceum. Typed in textbox on top of photo: Periodical Battleground (Every 100 Years, eh?) GR*R*R*R, COLONEL. Newspaper clippings, headlines beside photograph: John H. Fox Sets Us Straight, Career is Saved by Civil War, Special Marker Will Be Placed. [Other text follows]. [Full page images can be found in Box 1 scrapbook, also in this image gallery.]
Original Collection
Cofield Collection (MUM00078); J.R. and Jack Cofield original works are copyrighted to the University of Mississippi. Many images were collected by J.R. Cofield, and are subject to copyright under the creator. Archives and Special Collections. University of Mississippi Libraries.
Original Format
black-and-white photographs
Finding Aid