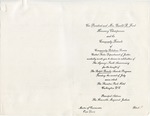 Other Form of Name
Ford, Gerald R., 1913-2006; Ford, Betty, 1918-2011
Identifier
Eastland_S1SS16_Nixon_Office_VP_8
Custom Date
1970s; [July 1974]
Preview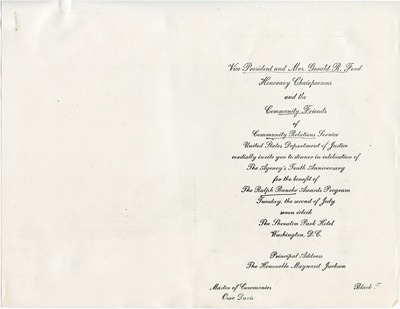 Description
Copy printed invitation of Vice-President & Mrs. Ford to Ralph Bunche Awards Program of Community Relations Service on 2 July [1974]. Attached: copy printed program of event with handwritten notations; 2 pages.
Subject Headings (Library of Congress)
Community relations; Ford, Gerald R., 1913-2006; Ford, Betty, 1918-2011;
Relational Format
archival material
Original Format
invitations; programs (documents)
Finding Aid
Original Collection
James O. Eastland Collection, Archives and Special Collections, University of Mississippi Libraries
Rights
This file is for personal and research use only. For publication and professional uses, please contact the Archives and Special Collections at the University of Mississippi Libraries.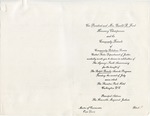 Included in
COinS