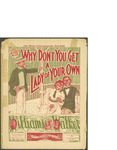 Preview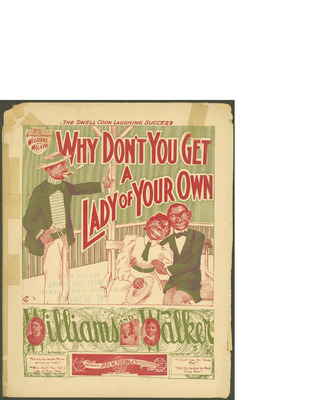 Description
Cover: caricature of an African American couple embracing, as an African American male stands by staring at them; photo insets of the African American composer/singers in blackface; description reads the swell coon laughing success; Publisher: Jos. W. Stern and Co. (New York)
Subject Headings (Library of Congress)
Songs -- United States -- 19th Century; Popular Music -- United States
Relational Format
music score
Original Collection
Sheldon Harris Collection (MUM00682), Archives and Special Collections, University of Mississippi Libraries
Finding Aid
Lyrics
Lyrics:
First verse
Sam Johnson was a suitor for Miss Maria's hand, But she was as big a coquette as ever liv'd in the land. He introduced her to a friend - a swell young man - one night; The friend took Sam's gal way from him, which I don't think was right. So, when he met this coon next day, why to him he did say:
Chorus
Why don't you get a lady of your own? I hope and trus' you'll let my gal alone! I introduc'd you as a friend but you don't seem to care much about that when, you tried to steal the girl I love from home. The good book says each man his rib must find! Before you came I knew that rib was mine! I hope and trus' I don't tell you another time, Or else I'll forget you're a friend of mine, If you don't get a lady of your own!
Second verse
Sam went to take her to a ball, her ma said, She aint home, My! she done left three hours ago with that young friend of yourn. Sam he rush'd home and got a blade and went down to that ball, If it hadn't a been for three of his pals, he'd have murder'd his friend, that's all. So when he met this coon next day, why to him he did say:
Content Disclaimer
The derogatory terms, images, and ideas that appear in some of this sheet music are not condoned by the University of Mississippi. They do represent the attitudes of a number of Americans at the times the songs were published. As such, it is hoped that the sheet music in this collection can aid students of music, history, and other disciplines to better understand popular American music and racial stereotypes from the 19th- and early 20th-centuries.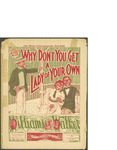 Included in
COinS