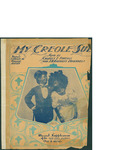 Preview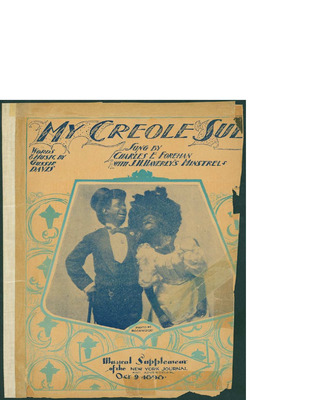 Description
Cover: photo of two Caucasian male performers in blackface, one is dressed as a female; sung by Charles E. Foreman with J. H. Haverlys Minstrels. Musical Supplement of the New York Journal and Advertiser, Oct. 9, 1898; Publisher: x
Subject Headings (Library of Congress)
Songs -- United States -- 19th Century; Popular Music -- United States
Relational Format
music score
Original Collection
Sheldon Harris Collection (MUM00682), Archives and Special Collections, University of Mississippi Libraries
Finding Aid
Lyrics
Lyrics:
First verse
While tonight I sit reflecting over mem'ries of the past, My thoughts turn to the Lousiana shore; There my heart first found its happiness and may it ever last, Oh, that little girl I'll love forever more, When e'er I think of angels then I seem to see her face There never beat a heart so fond and true; And when I left the sunny South, right there I left my heart, She's the sunlight of my life my Creole Sue.
Second verse
Through life's journey I have never seen a face to me so fair, I've never heard a voice that sound so sweet; And I oft' think of the moonlight nights that I spent with her there. For with her my happiness was quite complete. A memory still haunts me and no matter where I roam Her words will linger in my ear through life; One night she whispered softly, Oh, I love you yes I do, And I promise you some day to be your wife.
Content Disclaimer
The derogatory terms, images, and ideas that appear in some of this sheet music are not condoned by the University of Mississippi. They do represent the attitudes of a number of Americans at the times the songs were published. As such, it is hoped that the sheet music in this collection can aid students of music, history, and other disciplines to better understand popular American music and racial stereotypes from the 19th- and early 20th-centuries.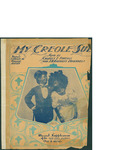 Included in
COinS