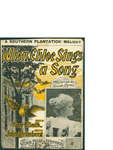 Preview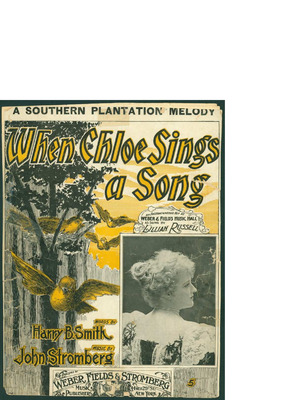 Description
Cover: drawing of flying birds; photo inset of Lillian Russell; Publisher: Weber Fields and Stromberg (New York)
Subject Headings (Library of Congress)
Songs -- United States -- 19th Century; Popular Music -- United States
Relational Format
music score
Original Collection
Sheldon Harris Collection (MUM00682), Archives and Special Collections, University of Mississippi Libraries
Finding Aid
Lyrics
Lyrics:
First verse
Dar is music in de banjo when it sounds, Dar is music in de whistle ob de breeze, Dar is music fo' creation on de whole ob dis plantation, Dar is music in de buzzin' ob de bees. But de sweetes music ever dat I hear, Is de sound de soft breeze to me gently brings, In tones so clear to my listenin' ear, When my Chloe, my sweet Chloe sings.
Refrain
Do yo' hear dem tones a-comin' Wid de ole banjo a strummin' why de bees dey stop dere hummin' when dey hears em come a long, O'er de whole o'dis plantation, Its de cause ob a sensation, Sweet es music in creation, Is when Chloe sings a song.
Second verse
Dar is music in de tambourine and bones, Dar is music in de fiddle and de bow, Dar is lively music eber when the steamer down de riber, Comes a long an' lets her loudes' whistle blows. But de darkies come around fo' miles an' miles, It is wonderfull de crowd it always brings Wif ev'ry chile's face wreathed in smiles, When my Chloe, my sweet Chloe sings.
Content Disclaimer
The derogatory terms, images, and ideas that appear in some of this sheet music are not condoned by the University of Mississippi. They do represent the attitudes of a number of Americans at the times the songs were published. As such, it is hoped that the sheet music in this collection can aid students of music, history, and other disciplines to better understand popular American music and racial stereotypes from the 19th- and early 20th-centuries.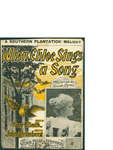 Included in
COinS