What is eGrove?
eGrove, the University of Mississippi's Institutional Repository, is freely available to researchers worldwide. Any University of Mississippi current faculty or staff member, student, research unit, department, lab, center, institute, or organization or affiliate ("unit") is eligible to participate in eGrove. Student organizations are eligible with faculty sponsorship. Alumni and others closely affiliated with the university may request permission from the University Libraries to submit materials.
eGrove provides free online access to the intellectual output of researchers at the University of Mississippi, and promotes its dissemination in an archive. This may include, but is not limited to open educational resources, open access journals, theses and dissertations, university archives, data sets, images, conferences and symposia, scholarly papers and articles. eGrove contains materials selected by participating departments, schools, centers, and institutes at the University of Mississippi (UM) and is administered by UM Libraries.
Eligible depositors will submit full texts of their publication, although they may choose to delay making the publication publicly visible to comply with publishers' embargos. Authors may request removal of a paper or a specific version of a paper. Authors may also provide an updated version for posting. Errata and corrigenda lists may be included with the original record.
Why eGrove?
The Grove, stretching across 10 acres at the center of the University of Mississippi campus, is more than a gathering place. It represents both tradition -- whether tailgaiting in the fall or commencement exercises in the spring -- and new beginnings at concerts and orientation events. It is a classroom, a park, and an auditorium in which both sun and shade are surrounded by oak, elm, and magnolia trees. The repository is like our "digital grove": a centralized location for storing university information. It is about society, history and community as much as it is about academics and research.
Photo by Kevin Bain/Ole Miss Communications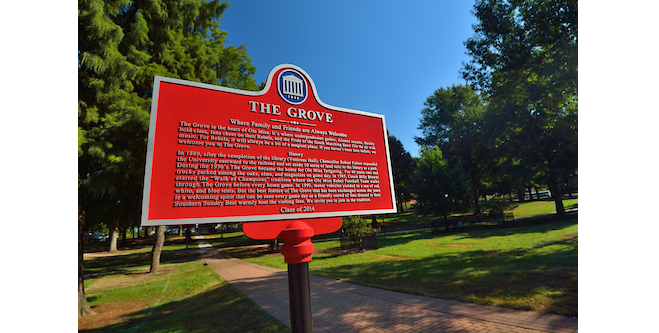 The Grove: where family and friends are always welcome. The Grove is the heart of Ole Miss. It's where undergraduates gather, alumni reunite, faculty hold class, fans cheer on their Rebels, and the Pride of the South Marching Band fills the air with music. For Rebels, it will always be a bit of a magical place. If you haven't been here before, we welcome you to the Grove.
History: in 1839, after the completion of the library (Ventress Hall), Chancellor Robert Fulton expanded the University eastward to the railroad and set aside 10 acres of land next to the library as a park. During the 1950s The Grove became the home for Ole Miss Tailgating. For 40 years cars and trucks parked among the oaks, elms, and magnolias on game day. In 1985, Coach Billy Brewer started the "Walk of Champions" tradition where the Ole Miss Rebel Football Team walks through The Grove before every home game. In 1991, motor vehicles yielded to a sea of red, white, and blue tents. But the best feature of The Grove that has been unchanged across the years is a welcoming spirit that can be seen every game day as a friendly crowd of fans dressed in their Southern Sunday Best warmly host the visiting fans. We invite you to join the tradition.
[Gift of the] Class of 2014