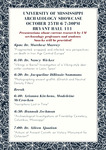 Description
Presentations about current research by UM archaeology professors and students.
6:00 p.m. Dr. Matthew Murray
"Fragmented, wrapped and infected: new perspectives on death in Iron Age Central Europe"
6:10 p.m. Dr. Nancy Wicker
"Vikings in Iberia? Investigation of a Viking-style deer antler container in Léon, Spain"
6:20 p.m. Dr. Jacqueline DiBiasie-Sammons
"Photographing ancient graffiti: dStretch and Neutral Density Filters"

Break
6:40 p.m. Arianna Kitchens, Madeline McCracken
"Inscriptions Lost in Time"
6:50 p.m. Hannah Zechman "Archaeological Investigations at Friendship Cemetery, Columbus, Mississippi"
7:00 p.m. Dr. Aileen Ajootian
"Actium at Ancient Corinth: a Victory Monument for Octavian?"
ISBN
Archaeology_Showcase (October 25) copy_2018
Publication Date
10-25-2018
Relational Format
archival material
Recommended Citation
Murray, Matthew; Wicker, Nancy; DiBiasie-Sammons, Jacqueline; Ajootian, Aileen; Kitchens, Arianna; McCracken, Madeleine; and Zechman, Hannah, "University of Mississippi Archaeology Showcase" (2018). Lecture Series. 8.
https://egrove.olemiss.edu/classics_lectures/8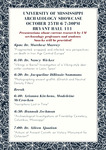 Included in
COinS