Preview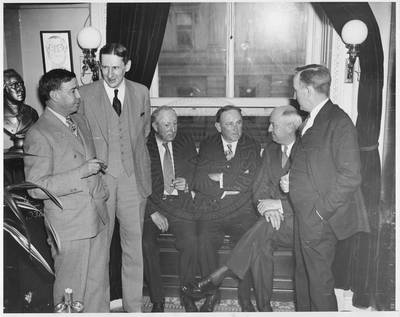 Identifier
MPAP_b2_f12_004
Description
Note on back: "These gentlemen were bitterly opposed to the Soldiers Bonus Bill and are shown after the Senate had voted to sustain President Roosevelt's veto, 40 to 54, May 23. Left to right: Senator Dennis Chavez of New Mexico; Charles Vest, President Roosevelt's contact man; Senator Pat Harrison of Mississippi; Senator Joseph T. Robinson of Arkansas, Postmaster General James A. Farley and Senator Joseph O'Mahoney of Wyoming. 5/23/35."
Subject Headings (Library of Congress)
Harrison, Pat, 1881-1941; Chavez, Dennis, 1888-1962; Vest, Charles; Robinson, Joseph Taylor, 1872-1937; O'Mahoney, Joseph C. (Joseph Christopher), 1884-1962; Farley, James A. (James Aloysius), 1888-1976; United States. Congress. Senate; United States -- Politics and government -- 20th century; Roosevelt, Franklin D. (Franklin Delano), 1882-1945; Military pensions -- Law and legislation; Veto -- United States;
Relational Format
photograph
Original Format
photographs
Original Collection
Pat Harrison Collection, Archives and Special Collections, University of Mississippi Libraries
Finding Aid
Rights
Images in this collection are for personal use only. These items may not be reproduced, re-posted or saved except under fair use, as stipulated by U.S. Copyright Law : reproduction is not to be "used for any purpose other than private study, scholarship, or research." For publication and professional uses, please contact the Archives and Special Collections at the University of Mississippi Libraries.