Other Form of Name
Meek, Edwin E. (Edwin Ernest), 1940-
Preview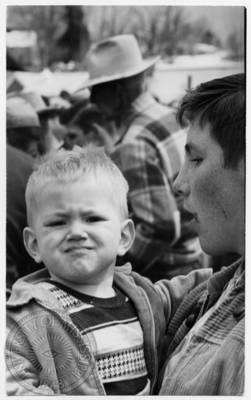 Identifier
mum00739_b02_f03_02_011
Date Information
1960-1969
Description
First Monday Trade Day, Ripley, Mississippi.
Original Collection
Ed Meek Collection (MUM00739), Archives and Special Collections, University of Mississippi Libraries
Original Format
black-and-white photographs
Rights
Images in this collection are for personal use only. These items may not be reproduced, re-posted or saved except under fair use, as stipulated by US Copyright Law: reproduction is not to be "used for any purpose other than private study, scholarship, or research." For publication and professional uses, please contact the Archives and Special Collections at the University of Mississippi Libraries.
Finding Aid
Relational Format
photograph
Content Disclaimer
Some of the images and language that appear in the digital collections depict prejudices that are not condoned by the University of Mississippi. This content is being presented as historical documentation to aid in the understanding of both American history and the history of the University of Mississippi. The University Creed speaks to our current deeply held values, and the availability of this content should not be taken as an endorsement of previous attitudes or behavior.
Keywords
Ripley (Miss.); Trade shows -- Mississippi -- Ripley
COinS