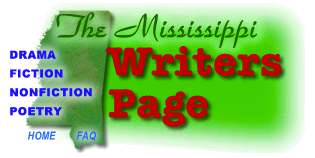 The lists and entries of the original Mississippi Writers Page (MWP) were made browseable with several links.
About This Site
Just Published
News and Events
Literary Landmarks
Mississippi Writer Timeline
Journals and Magazines
Mississippi Publishers
Features
Other Web Resources
Browse listings by: author, title, place, year, genre
To preserve the extensive projects of the MWP, we have compiled several resources, available here:
An Open Educational Resource (OER), structured as a reference guide: PDF with searchable text
An interactive timeline of Mississippi Literary History using Knight Lab's open source Timeline.js
An interactive map of "Mississippi Literary Landmarks" using the free version of Arc-GIS Online
A zip folder of the files from the original web site, that can be used for future projects
An image gallery of book jackets and publication information from the "Just Published" section of the site
Printing is not supported at the primary Gallery Thumbnail page. Please first navigate to a specific Image before printing.