Preview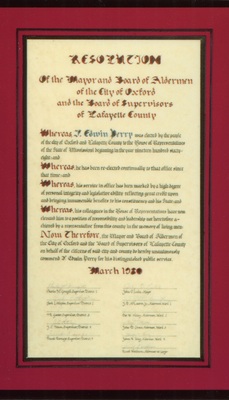 Identifier
MPAP_b1_f15_006
Description
Resolution of the Mayor and Board of Aldermen of the City of Oxford and the Board of Supervisors of Lafayette County
Whereas, F. Edwin Perry was elected by the people of the city of Oxford and Lafayette County to the House of Representatives of the State of Mississippi beginning in the year nineteen hundred sixty-eight; and
Whereas, he has been re-elected continually to that office since that time; and
Whereas, his service in office has been marked by a high degree of personal integrity and legislative ability reflecting great credit upon and bringing innumerable benefits to his constituency and his State; and
Whereas, his colleagues in the House of Representatives have now elevated him to a position of responsibility and leadership not heretofore achieved by a representative from this county in the memory of living men:
Now Therefore, the Mayor and Board of Aldermen of the City of Oxford and the Board of Supervisors of Lafayette County on behalf of the citizens of said city and county do hereby unanimously commend F. Edwin Perry for his distinguished public service.
March 1980
John O. Leslie, Mayor (et al)
Subject Headings (Library of Congress)
Politicians -- Mississippi; Mississippi. Legislature. House
Relational Format
photograph
Original Format
color photographs
Original Collection
Ed Perry Collection (MUM01707), Archives & Special Collections, University of Mississippi Libraries
Finding Aid
Rights
Images in this collection are for personal use only. Anyone with information or questions regarding the copyright status of these images is encouraged to contact Archives and Special Collections at the University of Mississippi Libraries. For publication and professional uses, please contact Archives and Special Collections.