Preview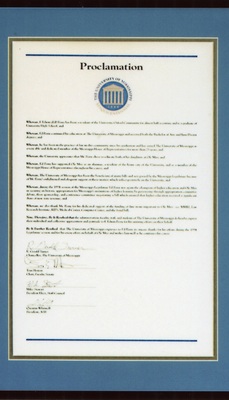 Identifier
MPAP_b1_f15_005
Description
Proclamation
Whereas, F. Edwin (Ed) Perry has been a resident of the University Oxford Community for almost half a century and is a graduate of University High School, and
Whereas, Ed Perry continued his education at The University of Mississippi and received both the Bachelor of Arts and Juris Doctor degrees, and
Whereas, he has been in the practic of law in this community since his graduation and has served the University of Mississippi as a very able and dedicated member of the Mississippi House of Representatives for more than 25 years, and
Whereas, the University appreciates that Mr. Perry chose to educate both of his daughters at Ole Miss, and
Whereas, Ed Perry has supported Ole Miss as an alumnus, a resident of the home city of the University and as a member of the Mississippi House of Representatives throughout his career, and
Whereas, The University of Mississippi has been the beneficiary of many bills and acts passed by the Mississippi Legislature because of Mr. Perry's enlightened and eloquent support of those patters which reflect positively on the University, and
Whereas during the 1994 session of the Mississippi Legislature Ed Perry was again the champion of higher education and Ole Miss in securing an historic appropriation for Mississippi's institutions of higher learning by perservering through appropriation committee debate, floor sponsorship, and conference committee negotiating, a bill which ensured that higher education received a significant slice of new state revenue, and
Whereas, we also thank Mr. Perry for his dedicated support of the funding of line items important to Ole Miss, i.e. MMRI, Law Research Institute, RIPS, Medical Center Computer Center, and the bond bill,
Now, Therefore, Be It Resolved that the administration, faculty, staff, and students of the University of Mississippi do hereby express their undivided and collective appreciation and gratitude to F. Edwin Perry for his untiring effors on their behalf
Be It Further Resolved that The Univeristy of Mississippi expresses to Ed Perry its sincere thanks for his efforts during the 1994 Legislative session and for his every effort on behalf of Ole Miss and wishes him well as he continues his career.
R. Gerald Turner, Chancellor (et al)
Subject Headings (Library of Congress)
Politicians -- Mississippi; Mississippi. Legislature. House
Relational Format
photograph
Original Format
color photographs
Original Collection
Ed Perry Collection (MUM01707), Archives & Special Collections, University of Mississippi Libraries
Finding Aid
Rights
Images in this collection are for personal use only. Anyone with information or questions regarding the copyright status of these images is encouraged to contact Archives and Special Collections at the University of Mississippi Libraries. For publication and professional uses, please contact Archives and Special Collections.