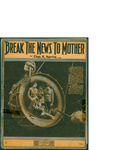 Preview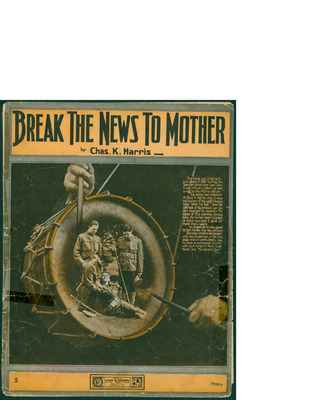 Description
Cover: photo of a mortally wounded soldier with three of his comrades; Publisher: Chas K. Harris (New York)
Subject Headings (Library of Congress)
Songs -- United States -- 19th Century; Popular Music -- United States
Relational Format
music score
Original Collection
Sheldon Harris Collection (MUM00682), Archives and Special Collections, University of Mississippi Libraries
Finding Aid
Lyrics
Lyrics:
First verse
While the shot and shell were screaming upon the battle field; The boys in blue were fighting their noble flag to shield; Came a cry from their brave captain, Look boys! our flag is down; Who'll volunteer to save it from disgrace? I will, a young voice shouted, I'll bring it back, or die, Then sprang into the thickest of the fray; Saved the flag but gave his young life; all for his country's sake. They brought him back and softly heard him say
Chorus
Just break the news to mother, She knows how dear I love her, And tell her not to wait for me, For I'm not coming home; Just say there is no other Can take the place of mother; Then kiss her dear, sweet lips for me, And break the news to her.
Second verse
From a-far a noted general had witnessed this brave deed. Who saved our flag? speak up lads, twas noble, brave, indeed! There he lies, sir, said the captain, he's sinking very fast. Then slowly turned away to hide a tear.
Content Disclaimer
The derogatory terms, images, and ideas that appear in some of this sheet music are not condoned by the University of Mississippi. They do represent the attitudes of a number of Americans at the times the songs were published. As such, it is hoped that the sheet music in this collection can aid students of music, history, and other disciplines to better understand popular American music and racial stereotypes from the 19th- and early 20th-centuries.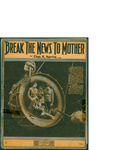 Included in
COinS