The University of Mississippi Studies in English was an annual, peer-reviewed publication of the Department of English with articles on British and American literature.
Preceded by Studies in English (ISSN 0544-4713, volumes 1-15 published between 1960-1978), the second or "New series" (ISSN 0278-310x, volumes 1-12), was published between 1980-1995. During this second iteration, it became a peer reviewed journal. It was then continued by Journal X (1996-2004), also called Jx
Studies in English is no longer in publication and is no longer accepting submissions.
Current Volume: Volume 11 (1995) Volumes 11-12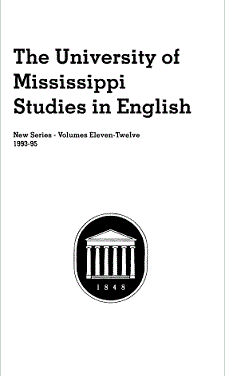 Editors
Editor

Benjamin Franklin Fisher IV

Associate Editor

Ivo Kamps

Editorial Associate

Kristin Harty

Founding Editor

John Pilkington