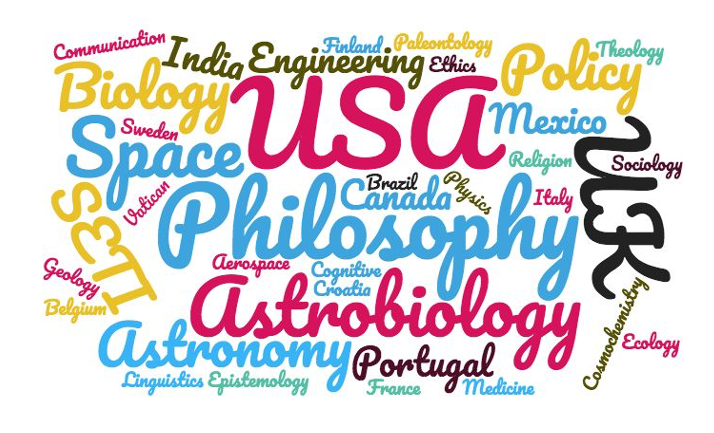 Because of COVID-19, the live conference originally planned for March 2020 was rescheduled for December 14-17 as a virtual event.
The next SSOCIA conference is tentatively scheduled for 2022.
For more information about SSoCIA, email Kelly Smith at kcs@clemson.edu. For more information on the conference at UM, contact Neil Manson at namanson@olemiss.edu.
Schedule
2020
Monday, December 14th
9:00 AM

Conference Organizers


9:00 AM - 9:20 AM

9:20 AM

The Morality of Interstellar Messaging

Julia DeMarines, University of California, Berkeley; Blue Marble Institute
Chelsea Haramia, Spring Hill College


9:20 AM - 9:40 AM

9:40 AM

We come in peace(?): On the ethics of interstellar diplomacy

Carlos Santana, University of Utah


9:40 AM - 10:00 AM

10:00 AM

Seeking Shared Values while searching for ETI

Chelsea Haramia, Spring Hill College


10:00 AM - 10:20 AM

10:35 AM

In Dreams Begin Responsibility: Environmental Assessment and Outer SpaceActions

William Kramer, Hawaii Research Center for Future Studies


10:35 AM - 10:55 AM

10:55 AM

Half-Earth, the 1/8 Principle, & Ethics of Collective Restraint

Alan Johnson, Clemson University


10:55 AM - 11:15 AM

11:15 AM

Conservation Ethics for Spacefaring Civilization

Nick Nielsen, Icarus Interstellar


11:15 AM - 11:35 AM

11:35 AM

Predicting the Effects of the Outer Space Treaty on Lunar Mining

Robert Lodder, University of Kentucky


11:35 AM - 11:55 AM

12:00 PM

(Poster) Astrobiologists Should Write Like Journalists and Talk Like Cavemen

Ryan Fortenberry, University of Mississippi


12:00 PM - 1:40 PM

12:00 PM

(Poster) Astrobiology and society in Europe today – The white paper on societal implications of astrobiology research in European context

Klara Capova, Durham University
David Dunér, Lund University
Erik Persson, Lund University


12:00 PM - 1:40 PM

12:00 PM

(Poster) Biological Soil Crusts: Microbial Prospects for Terraforming?

Erik Hom, University of Mississippi
Alex Penn, University of Surrey


12:00 PM - 1:40 PM

12:00 PM

(Poster) Who's Afraid of Little Green Men? Genetic Enhancement for Off-World Settlements

Caleb Hylkema, Clemson University
Kelly Smith, Clemson University


12:00 PM - 1:40 PM

Tuesday, December 15th
9:00 AM

William Alba, Carnegie Mellon University


9:00 AM - 9:20 AM

9:20 AM

The Assertive/Interrogative Divide in METI

Douglas Estes, South University


9:20 AM - 9:40 AM

9:40 AM

SETI, Cultural Evolution, and the Star Trek Imaginary

John Traphagan, University of Texas, Austin


9:40 AM - 10:00 AM

10:15 AM

Using Aliens to Teach Evolution

David DeGraff, Alfred University


10:15 AM - 10:35 AM

10:35 AM

Lessons learned from Socratic Dialogue in astrobiology education

Erik Persson, Lund University


10:35 AM - 10:55 AM

10:55 AM

A relational definition of life for Astrobiology

Astrid Modera, University of Namur


10:55 AM - 11:15 AM

11:30 AM

Planetary protection: an idea whose time is gone?

Linda Billings, National Institute of Aerospace


11:30 AM - 11:50 AM

11:50 AM

Protecting Our Moon with Multipurpose Nature Reserves

Daniel Capper, University of Southern Mississippi


11:50 AM - 12:10 PM

12:10 PM

Human Mars exploration vs planetary protection

Pauli Laine, University of Jyväskylä


12:10 PM - 12:30 PM

12:30 PM

The Precautionary Principle and Space Exploration

Doan vu Duc, Université catholique de Louvain


12:30 PM - 12:50 PM

Wednesday, December 16th
9:00 AM

Life in space colonies: can ecocentrism help?

Abhik Gupta, Assam University


9:00 AM - 9:20 AM

9:20 AM

Psychological Impediments to Collective Space Colonization

Joseph Gottlieb, Texas Tech University


9:20 AM - 9:40 AM

9:40 AM

Why Humans with Disabilities Will Colonize Space

Sherri Wells-Jensen, Bowling Green State University


9:40 AM - 10:00 AM

10:00 AM

Against Human Enhancement as a Defaultfor Space Societies

James Schwartz, Wichita State University


10:00 AM - 10:20 AM

10:35 AM

Can Astrobiology Transcend Biology?

Lucas Mix, Ronin University


10:35 AM - 10:55 AM

10:55 AM

The Coincidence Number of a Universe & Implications for Life

Andrew Kennedy, Chronolith Research Programme


10:55 AM - 11:15 AM

11:15 AM

Assuring Humanity's Interstellar Mission Capability for Posterity

Robert G. Kennedy III, Institute for Interstellar Studies
Eric Hughes


11:15 AM - 11:35 AM

11:45 AM

(Film Screening) Chelsey Bonestell: A Brush with the Future

Douglas M. Stewart Jr.


11:45 AM - 1:20 PM

Thursday, December 17th
9:00 AM

Kelly Smith, Clemson University


9:00 AM - 9:10 AM

9:10 AM

Sabine Heinz


9:10 AM - 9:30 AM

9:30 AM

Daniela DePaulis, IAA SETI Permanent Committee


9:30 AM - 9:50 AM

10:05 AM

Mode & tempo of evolution of life on earth and possibly elsewhere

Nathalie Gontier, University of Lisbon


10:05 AM - 10:25 AM

10:25 AM

Carlos Mariscal, University of Nevada, Reno


10:25 AM - 10:45 AM

10:45 AM

Beyond Metabolism and Genetics

John Malloy, Arizona State University


10:45 AM - 11:05 AM

11:20 AM

An Astroethics of Responsibility and Care

Ted Peters, Graduate Theological Union


11:20 AM - 11:40 AM

11:40 AM

Finitude as the Lingua Cosmica of the Universe

Jason Howard, Viterbo University


11:40 AM - 12:00 PM

12:00 PM

Agriculture, permaculture and terraforming

Flora Dutra, Federal University of Rio Grande do Sul


12:00 PM - 12:20 PM

12:20 PM

Brig Klyce, Astrobiology Research Trust


12:20 PM - 12:40 PM